about ,G(comma G)(improvisation music)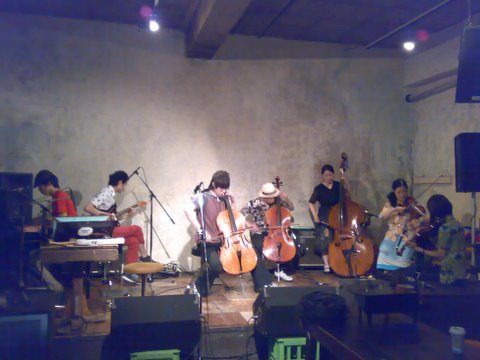 ,G are:
Uhei (piano,harmonium,melodica)
Yo-suke (cello,acoustic Bass, shout)
Tomoaki Saito (electric Guiter, flute)
Seijiro Kuroda (cello)
Shinji Kameda (alto,sprano sax)
Akiko igaki (violin,clarinet)
,G (comma-G) is the improvisation band playing in Kyoto, Japan.
Mainly we use acoustic instruments such as piano, cell, violin,sax, flute,guitar,contrabass, clarinet, harmonium(Indian accordion), toys, noise from streets, rindik(bamboo gamelan),melodica...etc.
It need not be freeky, we improvise but want to express sometiong like an image, poetry, and a small joke through music. Music like chat, chating is always great music.
We have our live event once every two months in Kyoto. the event called " ,G in the same Spot". in this event, any kinds of artists get together and sometimes wonderful mixtures are invented. ,G always waits for your participation.
We also offer music to dancers, stages, plays, and video artists.
listen ,G!
in japanese